Career Support
Your career (working life) starts to take shape the moment you begin thinking about it. To acquire a lifestyle that suits you, it is very important to discover your own values. With this in mind, we have a support system in place that starts in the 1st year. The goal of this system is to help students get a holistic picture of employment by seeking the meaning and value of work, learning about the job market for university graduates and the types of skills they need, and developing the personal strengths they can bring to the world of work.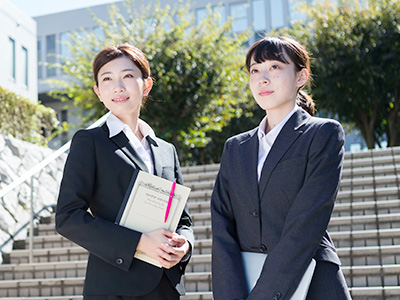 At Ferris, our mission is to cultivate women who will serve as leaders of the new era. We therefore aim to help our students walk along a path towards a successful in every way possible.

Since each student walks on a different path, there are various matters to be considered. We attempt to provide each student with personalized and carefully considered support.

We wish to help brighten your past, present, and future!
Career Seminars
Employment orientation sessions, open seminars, meetings with successful job-hunters, job interview practice, a preparatory course for employment exams, and a training course for broadcasters.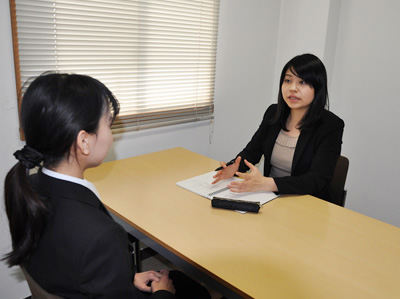 Career Counseling
Students are typically concerned about choosing the right career. The Career Development Office provides appointment-based private advising on a needs basis in which highly experienced staff offer personalized advice.
2019 Post-Graduation Career Paths
 
Faculty of Letters
Faculty of Global and Intercultural Studies
College of Music
Total
Number of graduates
299
220
75
594
Percent accounted for
100%
100%
100%
100%
Total number of graduates seeking work
272
198
56
526
Number of graduates in employment
Company employees
248
183
43
474
Public servants (incl. those on fixed-term contracts)
2
4
2
8
Teachers (incl. part-time teachers)
4
1
5
10
Other
12
6
4
22
Total number of graduates employed
266
194
54
514
Number of graduates not yet employed
6
4
2
12
Number of graduates pursuing further study
Graduate school
4
1
4
9
University
0
0
1
1
Study Abroad
3
2
0
5
Junior college
0
1
0
1
Specialized training collges
0
1
0
1
Total
7
5
5
17
Part-time workers
4
9
4
17
Not in employment
16
8
10
34