College of Music

Educating women capable of fully expressing themselves
by cultivating artistic sensitivity through music
Providing music students with a well-balanced education
The College of Music provides a learning environment in which students and the teaching staff value the idea of partnership under the common theme of "music," peers help each other to improve in a supportive atmosphere, and each and every student can make the most of her talents and abilities. Students certainly expand their knowledge of music as a whole and become technically accomplished in their specialized areas, but a further attraction is the opportunity to take advantage of other departments of the university and enrich their studies by learning a foreign language or any other subject.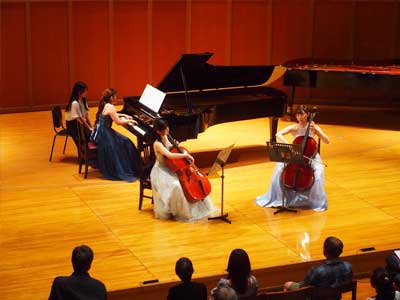 Human Development Goal of the College of Music
Through advanced education and research in music, the College aims to develop people who have specialized knowledge, ability, and skills as well as the qualities that help support the musical community in various ways.
Human Development Goal of the Department of Musical Arts
The Department aims to develop students' general understanding of musical creation, expression, and culture as well as their knowledge and skills to connect people with society through music. By providing a diversity of learning experiences across the boundaries of musical genres, the Department aims to develop people who can play an active role in many fields of society.
Human Development Goal of the Department of Performing Arts
By deepening students' understanding of the essence and the cultural and historical background of traditional Western music and having them acquire solid performance and expression skills, the Department aims to produce people who can contribute to society in various fields.
College of Music Organization Chart

Features of Learning
Flexible Curriculum that Provides Abundant Education
A special feature of the College of Music is the ability to study subjects that meet your preference with few required subjects. A well-rounded education is essential for creating music. Taking advantage of the benefits of being a comprehensive university, we have language subjects in which you can choose from 10 types of languages; we also have Basic studies and General studies in which you can build a foundation for various academic fields. In addition, because you can take many specialized subjects from other courses, you can learn much about the world of music without having to favor any major field of study.
Opportunities to Attend Concerts of the Highest Class and Accompany Artists who are Active on the World Stage
Every year the College of Music organizes numerous musical events in order to stimulate students' interest in music. In addition to the "Ferris Concerts" which feature brilliant artists from Japan and other countries, the College organizes participatory workshops for students and special open classes by inviting instructors who are successful in the relevant business. In addition, the Department of Performing Arts provides students with opportunities to play together with outside orchestras and professional artists. Many students perform in concerts held throughout each academic year, such as "Christian Music Society," "Chamber Music Evenings," and "Orchestral Evenings," and thereby experience the joys of playing music as a single entity in a hall full of people.
Knowing, Learning, and Experiencing Christian Music
It is important for students to feel and absorb some of what forms the core of Western music by coming in contact with the philosophy of Christianity, which has played an indispensable role in the history of Western music. For this reason, numerous lectures are conducted on subjects related to Christianity. Students make an effort to embody the founding spirit of the university by studying the history, ideology, and culture of Christian music, taking year round classes designed to prepare them for performing in the "Christian Music Society" experiencing the feeling of playing on a pipe organ, playing music created for worship, and participating in other similar educational activities.
The Curriculum