Faculty of Global and Intercultural Studies

Fostering global-minded individuals capable of working in a variety of fields
Students gain the perspective, ideas,
and energy that they will require as global citizens
A major theme of work of the Faculty is "symbiosis" between people of different cultures, ideologies, and languages by deepening exchange with people from all over the world as globalization gathers pace in the world of 21st century. In reality, however, there are many obstacles to such relationships, including environmental and social problems, tribal conflicts, and the North–South divide. The Faculty of Global and Intercultural Studies aims to train women through small-sized classes so as to allow them to work across borders, giving them the perspective, ideas, and energy that they will require as global citizens.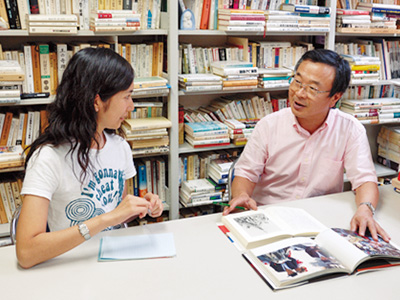 Human Development Goal of the Faculty of Global and Intercultural Studies
Through highly advanced education and research in the field of international exchanges, the Faculty aims to develop people with the comprehensive knowledge needed in the era of globalization, which transcends the boundaries of specialized fields.
Human Development Goal of the Department of Global and Intercultural Studies
Through highly advanced education and research in the field of international exchanges, the Department aims to produce people who have comprehensive knowledge, that is, people who have the intelligence and ability to take action to contribute to the future society.
Faculty of Global and Intercultural Studies Organization Chart

Features of Learning at the Faculty of Global and Intercultural Studies
"Symbiosis" on a Global Scale, Reaching beyond Borders
When looking at the concept of the "symbiosis" of society in the 21st century, it is important not to concentrate on the relationships between nations in the conventional sense but to pursue research of "interactions between people" with a global perspective. This Faculty is the first of its kind in Japan that conducts research in this new academic field. A step-by-step curriculum aimed at the realization of "symbiosis with others" across borders in international society is formed by addressing the various problems facing international society, and studying related historical, ideological, and cultural issues.
Small Class and a Diverse Range of Fields to Study
Basically, the two courses: "Introduction to Academic Skills" and "Introductory Studies" are offered during the 1st academic year, the "Introductory Seminar" is offered during the 1st and 2nd academic years, and "Seminars of Specialized Studies" in the 3rd and 4th years. While the "Introduction to Academic Skills" class is designed for students to acquire college-level study skills, the "Introductory Studies" course is offered to allow the students to consider the direction in which they wish to take their studies over the next four years. All future courses are conducted in small class sizes. The Specialized Subjects include three pillars: "Group A: Global Issues," "Group B: International Socio-Culture," and "Group C: Basic Theory of International Society." Students are free to select any one of these groups based on their area of academic interest. Many Specialized Subjects feature a "two lectures per week system" in the hope that students can maintain their concentration and produce excellent academic results.
A excellent International Education Program which Provides Study Abroad Opportunities
In order to work in an international society, it is important to see and experience the world extensively. In addition to providing access to the overseas short term programs available to all the students, exchange program, and approved study abroad program, the Faculty also overseas study opportunities in the form of Specialized Subjects, such as "Field Studies on Global Issues, "Field Studies in Asia," and "Field Studies in Australian Affairs." Through such experiences abroad, opportunities are created for students that allow them to obtain a sense of what is happening globally. In addition, the Faculty offers a rich variety of computer- and Internet-based lessons, thereby providing students the comprehensive backup they need to learn the skills that are indispensable to life in a global society.
The Curriculum